gainesville high school band & guard

Welcome to the New and improved home of the ghs band & guard

The Gainesville High School Band and Guard has a 70 year tradition of excellence and includes the following performing ensembles: The Hurricane Marching Band, Concert Band, Symphonic Band, Centerstage Indoor Guard, Indoor Percussion & the GHS Percussion Ensemble. The Hurricane Marching band is a four time FMBC State Marching Band champion, and a five time FMBC runner up since 2000. The Centerstage Indoor Guard is the reining Class AAA 2014 FFCC State Champion and Class B 2013 State Champion. The Concert Band, Symphonic Band and Percussion Ensemble consistently earn Superior ratings at FBA District Performance Assessments.

GHS Band Students also perform at District and State FBA Solo & Ensemble, consistently earning Superior Ratings at both events. GHS Band students also have the opportunity to participate in a musical production in collaboration with the GHS Drama department
Congratulations to the GHS Centerstage Color Guard for earning 3rd Place in AA at the FFCC State Color Guard Championships in Daytona Beach!!

---
Congratulations to Lauren and Collin on being named as the GHS Drum Majors for 2015-2016!!

---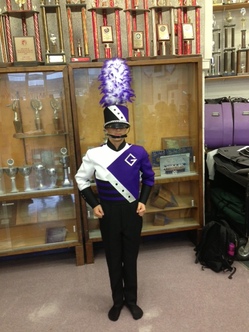 The prototype of the new uniform has arrived. Click on the New Uniform tab to find out more information. Click below on the Donate tab to make a donation towards the new uniforms via Paypal!

---